Fun Garden Activities for Kids
Outdoor play will get your kids moving and exploring – thankfully, there are so many easy ways to keep them entertained in the garden.
Here are 8 fun and engaging activities they can do in the great outdoors:
Make a colour scavenger hunt
Give your kids a sheet of paper with five or six different colours printed on it, and get them to look around the garden to find objects that match those colours, such as flowers, rocks and leaves. You can just as easily challenge them to find objects in the home to match the colours, on those not-so-sunny days.
Build an egg carton garden
Teach your children how to grow their own plants with a super-easy egg box garden. All you need is the bottom half of an egg carton, some soil and some seeds. After the seeds have been planted, leave it on a sunny windowsill and encourage your kids to keep it watered. Before long, you'll be able to cut the carton into little egg cups and plant the seedlings in your garden! It's a great way to teach your kids about nature.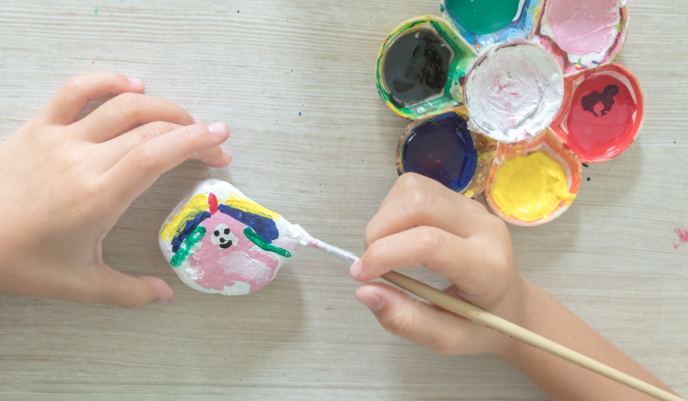 Rock painting
Crafty kids will love painting their own rocks! Have a look around your garden for some smooth, flat pebbles – these make a great canvas. Get some colourful child-friendly paints and paintbrushes and let their imaginations run wild. If they're stuck for ideas, try painting them as creepy crawlies like ladybirds and bumblebees. Once their masterpiece is complete, you can proudly display them inside or outside your home.
Make a bee hotel
Get your kids to help you build a hotel to help keep the bees in your garden safe and cosy! All you'll need is a plant pot, bamboo canes, string and compost. Cut the bamboo canes until they all fit tightly in the plant pot and pack some compost around them to make sure they stay in snugly. Your kids can decorate the hotel however they want. Once they have finished, tie some string around the pot and hang it somewhere shaded, facing slightly down. Now, sit back and wait for the bees to check in!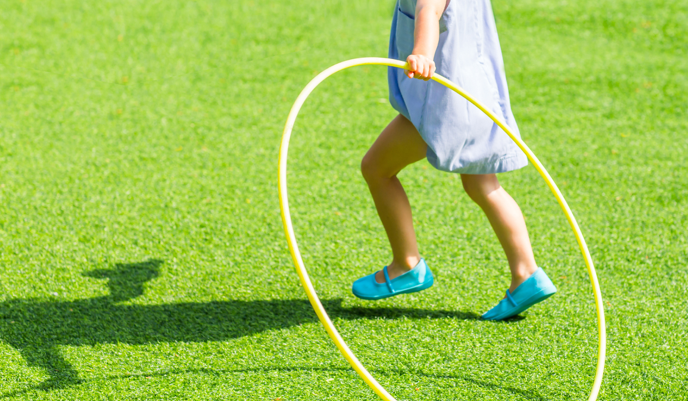 Create an obstacle course
Keep the kids active by making your very own obstacle course using items from your house and garden. Use planks of wood on the ground to test their balance as they 'walk the plank', get them to jump from hula hoop to hula hoop, or lay a bed sheet on the ground for them to crawl under – the possibilities are endless!
Stimulate their senses
A sensory garden with lots of colourful, scented plants will help engage your kids' senses, and they can help you create it by getting stuck into some gardening! Pick a patch of your garden to grow plants with a variety of different textures, smells and colours. Roses, sunflowers and sweetpeas will bring a rainbow of colour, whilst chamomile, lavender and mint are great scented options.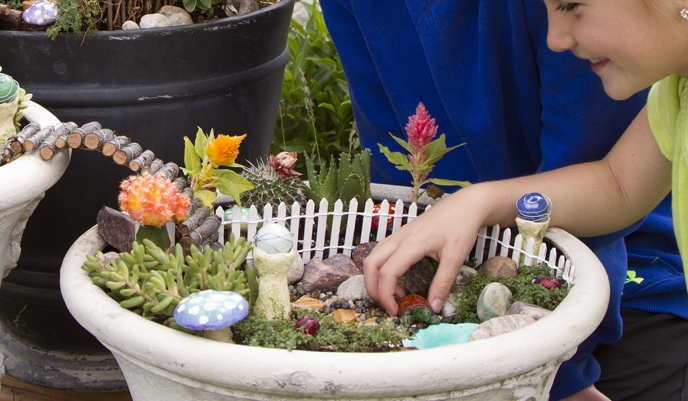 Make a fairy garden
For kids with big imaginations, making a magical fairy garden is the ideal outdoor activity! A fairy garden can be built in the base of a tree or in a flowerpot. Kids can make a path out of pebbles and a fence out of twigs, or even create their own door using some cardboard – the sky really is the limit with how they can decorate the fairy garden.
Throw a treasure hunt
Kids love exploring, so hide some goodies around your garden and write some clues for your kids to follow. For older kids, you could even make it educational by writing down maths or English questions on some of the clues, with the next clue being given to them when they get the answers right.
Have a mini sports day
Throw your own sports day with some old-fashioned favourites like an egg and spoon race (or potato and spoon for a less messy version!) or a sack race using old pillow cases – perfect for competitive siblings! Get a little prize for the winner… and perhaps some for the runners-up too, to avoid squabbles.


If it's raining outside, not to worry – we have some great ideas to keep your kids entertained indoors too.