6 FUN EXCITING GAMES TO PLAY IN THE GARDEN WITH YOUR CHILD
Keeping your child entertained at home all day can be a difficult task for any parent, especially on a budget. Tixylix is here to inspire you with some little tricks to try with ordinary items you most probably already have at home. 
Here are 6 fun and creative ways to entertain your child in a garden: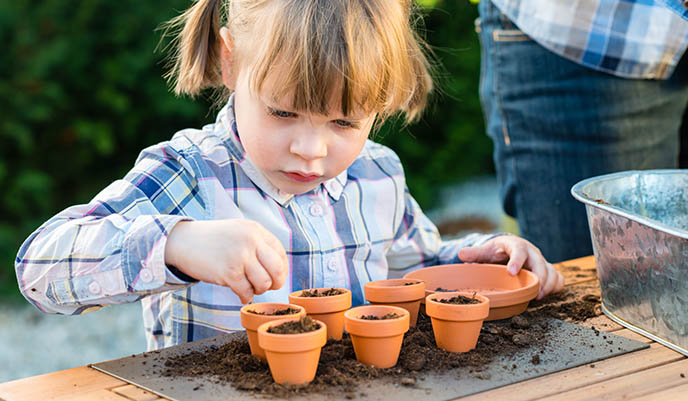 Make your own miniature garden
Your garden is full of all manner of treasures – it's time to let your child experience them! Find an old shoebox and go out into the garden with your little one. Make your own miniature garden with leaves, acorns, pinecones, gravel, flowers and anything else you might find. You could even find a snail in there – a great way to teach kids about wildlife if you don't mind getting your hands dirty!
Teach your kids about bees
Bees are the essential life force that keep our world going and your garden provides the perfect opportunity to teach your kids about them. Try the Bee Kind tool from the Bumblebee Conservation Trust. It helps you to identify flowers based on their appearance and month of flowering. Once you know which plants are most likely to attract the bumblebees, you can go outside and watch them in action. Take this chance to teach your kids about their vital role in pollination – chances are you'll learn a little about wildlife too.
Go blackberry picking
If you're lucky enough to have fruit growing in the bushes in your garden, get outside and get picking! You might have cooking apples, blackberries, pears, raspberries or more. If you've not planted the fruits yourself, make sure you always thoroughly research exactly what it is you're picking. Some berries may be dangerous, particularly for young children. If you're certain, take a look at some recipes and get baking together with the kids.
Plant a sunflower
Think back to when you were at school, you might just have been set the exciting task of growing your own sunflower. Why not pass this on to your green-fingered little ones? Buy a packet of seeds and watch your sunflower grow as your child grows with it. You can go outside and measure it week by week, keeping a chart on the fridge to monitor progress. Your child will love learning about plant growth and you'll end up with a huge flower – great for healthy seed snacks!
Build a treehouse
Ideal for older children, a treehouse is a safe haven for kids to get away and let their imagination run wild. If they're too small for a treehouse, you could try a Wendy house instead – anything that gives them their own play zone outside of the home. While it's great for you to get involved in the play, a private space is also ideal for teaching your kids how to enjoy their own company. 
Go on a scent trail
The garden is full of all sorts of exciting scents. Encourage your children to use all of their senses by creating a scent trail. Plant a few fragrant flowers in your garden and wait for them to bloom. Once they're ready, take a pen and paper and walk around the garden. Encourage the little one to sniff the flowers, fruits and vegetables and try to guess what they can smell. To really help them learn the scents, you can even encourage them to draw pictures after your trail. Put the pictures up on the fridge and show your family and friends just what you've all learned.