7 CREATIVE ACTIVITIES WHICH REUSE YOUR RECYCLING
Keeping your child entertained at home all day can be a difficult task for any parent, especially on a budget. Tixylix is here to inspire you with some little tricks to try with ordinary items you most probably already have at home.
Here are 7 fun and creative ways to entertain your child with recyclable items you may have at home: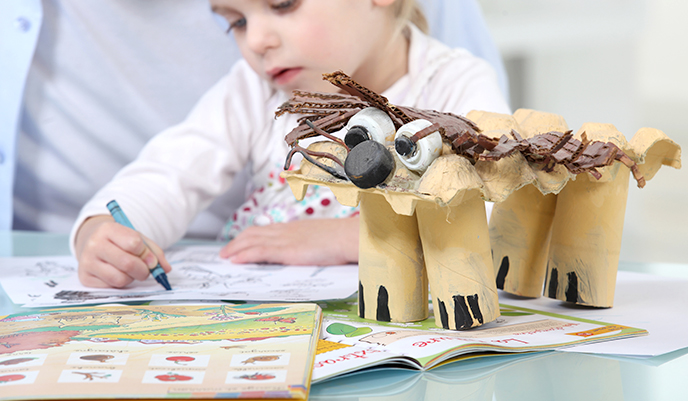 Host a scavenger hunt
If you save up all of your recyclables for the weekly bin run, a great game to play is the recycling scavenger hunt. Make a list of all the items that the players have to find, hide them around the house and the person to find the most items wins. If you only have one child, you could set a time limit to find all of the items hidden. Your kids will not only love venturing around the house for hidden treasure but will also start to learn about which items can be recycled.
Aluminium cans
Whether it be a pencil pot, a flower vase or a makeup brush holder, aluminium cans are the perfect tool for getting creative. Grab some sequins, beads, dried flowers, buttons etc., along with some glue and let your little one design you a beautiful trinket for your dresser - a nice addition for any mothers or fathers day presents too!  
Make a scrapbook
Take some leftover card or paper and hole punch the sides. Take a piece of string or leftover ribbon from Christmas presents and thread it through the holes, creating the scrapbook. If you're able, print off some family photos ready to glue down and decorate around them using glitter, pens or cut out pieces of magazines/wrapping paper. If you don't have any photos, write a family member down on each page and ask your little one to draw them. Cut letters and photos out of old magazines and newspapers for decorations.
Repurpose your milk cartons
If your milk comes in a carton, flipping it onto its side and cutting the top open creates the perfect shape for a sailing boat. Decorate the sides with any arts and crafts you have lying around, and use a pencil paired with an old piece of fabric as the sail. If your milk comes in a plastic carton, paint the whole thing pink, add some buttons for eyes, and cut out two pink triangles for some eyes and you have yourself your very own piggy bank!
Egg carton treasure
A simple, 6 egg carton can transform into your little one's personal treasure chest to pop all of their trinkets in. Whether you only have pens and paint to hand, or you can afford to buy some fake jewels and sequins, let your little one decorate their egg box however they like.
Imagine a monster
Egg cartons are also perfect for making little monsters. Your little one can paint the outside any colour they like, then stick on a pair of googly eyes and knitting wool for hair and there you have it - your child now has a brand new pet. Alternatively, if your child is too scared of monsters, opening up and cutting strips of the carton will create a perfect body for a caterpillar. Simply add some pipe cleaners for their antlers and draw a pair of eyes at the front. 
Homemade jigsaws
Save up all of your boxes and create a homemade jigsaw. Taking a cereal box as an example, simply cut off the front of the box, then cut that piece into how many jigsaw shapes you think it's appropriate depending on your child's age. If you have older children, you could even let them practice their scissor skills.