9 CREATIVE WAYS TO PLAY WITH A TOILET OR KITCHEN ROLL
Keeping your child entertained at home all day can be a difficult task for any parent, especially on a budget. Tixylix is here to inspire you with some little tricks to try with ordinary items you most probably already have at home.
Here are 9 fun and creative ways to entertain your child with a tube of kitchen or tissue roll: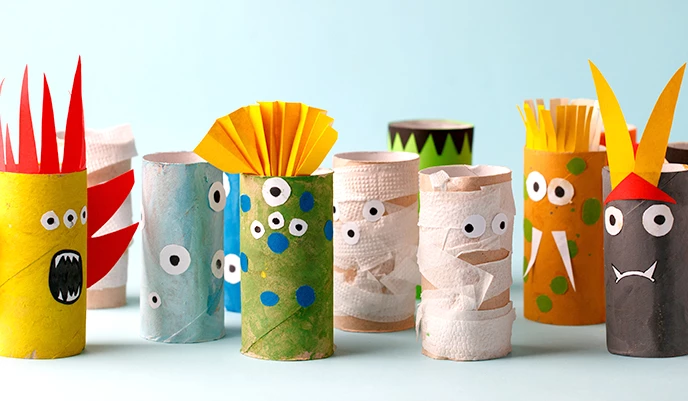 Wrap your kid up as a mummy
Whether your kids want to dress up as something spooky, or just want to play fancy dress at home, mummy costumes are fun, easy and inexpensive. Just take toilet roll and wrap up your little one until their body is covered from head to toe (just be sure to leave out their hands, mouth, feet and eyes!). If you have more than one child, you could have a mini race to see who can mummify their mummy or daddy in the fastest time.
Build a toilet paper pyramid or castle, then knock it down
If you buy your toilet roll in bulk, then this is a great activity for the whole family. Take all of the toilet roll in the house to create the tallest pyramid or castle you can, then knock it down together as many times as you like. You could even encourage a little make believe by pretending you're a giant storming through a city, or a magic carpet flying through the desert.
Make toilet paper accessories
From a sparkly piece of jewellery, or a new belt to secure all your tools on, get creative with your toilet roll and create a new accessory. It's most likely they won't be wearable for very long, but it's a creative way to keep your little one busy for an afternoon.
Create a toilet paper solar system
Are your kids interested in the planets and stars? Use some toilet roll to create a solar system. Each toilet roll can represent a planet, then you can measure how far (in toilet roll squares) each planet is from the "sun."
Build a tube town
Put those empty kitchen and toilet rolls to good use by making a mini "tube town" with your kids. Use your imagination to create tall skyscrapers or cute cottages. You can even cut out cars, people or trees and add them to your town.
Make a toilet paper roll bird feeder
Do you regularly have feathered visitors in your garden? Make a handmade bird feeder this weekend! Step 1: Clean off any extra bits of paper from your toilet paper rolls, then cover them in a thin layer of peanut butter. Step 2: Pour out some birdseed onto a plate, then gently roll the toilet paper roll over the plate to pick up the birdseed. Step 3: Thread a piece of string through the roll and tie it into a loop. Step 4: Let your feathered friends enjoy!
Create a mini ring toss
Set up a few different sized toilet or kitchen rolls on your living room floor. Grab a plastic hoop, or cut out your own from some cardboard, and create your own mini ring toss game. This activity isn't just fun, but will also help to develop hand-eye coordination.
At home bowling alley
Here's a favourite arcade game that can easily be re-created - your very own tenpin bowling alley! Set up 10-12 pieces of toilet tube and have a few soft balls at the ready. If you have slightly older children, you could even create mini scorecards to keep points.
Arts and crafts
From shark binoculars and colourful snakes, to toy cars and rockets, an empty toilet roll provides you with endless arts and craft activities to enjoy with your kids. See here for some great inspiration.